With the Greeks in Brussels, thousands turn out in solidarity protest
Comments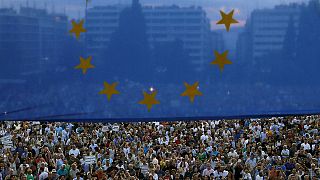 Standing with Greece in Brussels, several thousand people gathered in the Belgian capital and symbolic heart of the EU ahead of crunch talks on Greece's financial future.
Banners read "If Greece were a bank it would have been saved."
Among the crowd there was a feeling of all of Europe being in the same boat vis-à-vis big finance.
One protestor told euronews:
"All the things they are doing now to the Greeks they will do it also to us. So that's why we are here. Not only because of Greece but also because of ourselves. "
"It's not for the Greek people to suffer from the mistakes they make, the market and the banks," said another.
A Greek protester among the crowd remarked:
"The people have to be the priority. Because now it's not the people it's the money and the banks. And Europe shouldn't be like that. The United Europe has to remember its values."
The Belgian demo comes after similar rallies across European capitals which shows a growing frustration with Athens' international creditors.
Euronews correspondent in Brussels Efi Koutsokosta explains that:
"Thousands of Belgians, Greeks and citizens of other EU countries gathered in Brussels, to send a loud message to the Eurozone leadership asking for more solidarity for Greece. Meanwhile Alexis Tsipras is coming here for Monday's crucial eurozone summit on Greece which may also define the country's future course."