Russian asset seizure: Putin doesn't recognise court ruling
Comments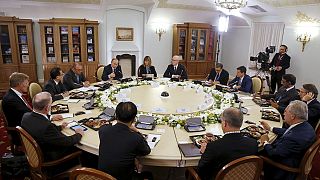 Russian President Vladimir Putin has responded publicly for the first time to the seizing of Russian assets by France and Belgium.
The two countries acted following an international court ruling that a investors should be compensated for the illegal breaking up of a Russian oil firm.
The assets included bank accounts and property but may include state-owned companies in future.
In a meeting with several global news agencies, Putin said Russia would defend its interests.
"We believe that the Arbitration Court is only competent to rule in cases where countries have signed and ratified the European Energy Charter. Russia has not ratified the Charter. So we do not recognise the jurisdiction of this court," he added.
Last year, the court in The Hague rule that Russian officials had purposely bankrupted oil giant Yukos and that shareholders were due 45 billion euros in compensation.
Putin's Confrontation w West 'Artificial,' Says Khodorkovsky; Supports Russian Assets Freeze http://t.co/3UmiWbtrTYpic.twitter.com/aT8VDrBGIT

— The Interpreter (@Interpreter_Mag) June 18, 2015
Moscow has demanded that Belgium and France reverse the asset seizures, warning that it would retaliate against the measures.
A legal application has been made to seize similar assets in the UK and the US.