Baku European Games: Day Six Highlights
Comments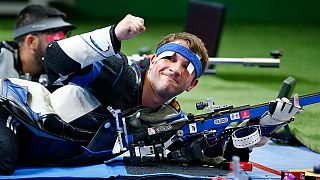 Germany's Henri Junghaenel defeated a stellar line-up to secure his country a quota spot for the Rio 2016 Olympics in the men's men's 50 metres rifle prone event on day six of the Baku European Games.
The 27-year-old overcame a field which included Belarus' Olympic champion Sergei Martynov and Russia's world record holder Sergey Kamenskiy, but was still forced to battle for the gold with Italy's Marco De Nicolo until the very last shot in a closely contested final.
Junghaenel's strong finish which saw him score a 10.8 and a 10.6 in the final two shots to leapfrog De Nicolo for the gold gave him a total of 208.5 points, while the Italian finished in second with 207.3.
"It is pretty awesome. The event was amazing, really well organised, it was great fun to be here," said Junghaenel. "The most important thing actually was the quota place, more than the gold medal."
"It was down to keeping your nerve, the same thing over and over. You want to beat yourself down, you want to be patient, you don't want to rush your shot.
"You just want to a good job with each shot, and you have to clear out all thoughts."
Martynov claimed the bronze with 186.3 points.
Having secured his country a quota place for Rio 2016, Junghaenel will now be determined to fill the spot himself after he did the same four years ago and gave Germany the Olympic place but later missed out on selection due to errors in his secondary qualification.
"These would be my first Olympics," he told reporters. "I won a quota place for London 2012, but I didn't end up getting it – I messed up a second qualifier."
"But winning gold at the first European Games – I hope that's a good argument for a place for Rio."
Veteran medallists
Elsewhere, 2013 world champion Ellen van Dijk of the Netherlands won gold in the women's road cycling individual time trial as her team mate Annemiek van Vleuten took the bronze on the 25.8 kilometre course in windy conditions.
Dutch national champion Vleuten set the early pace with a time of 33 minutes 33.56 seconds but Ukraine's Hanna Solovei, who recently returned from a two year doping ban in 2013, then claimed the lead with her effort of 33:03.37.
Solovei's time in first place was short lived, however, as van Dijk set a new fastest time of 32:26.87 several minutes later.
"It was very tough today, especially with the wind but then again it's the same circumstances for everyone," van Dijk told reporters. "I was able to get into a rhythm quickly and I could keep up the pace."
Van Dijk also commented on the benefit of the earpiece while doing the time trial, saying: "the coach has been a great help. He told me where to go and how to ride the ideal lines and that was great because at least there was some sort of company while riding."
In the men's time trial, it was Belarus' Vasil Kiryienka who dominated the event, completing the two laps of the course in a time of 59 minutes 36.03 seconds to finish more than a minute ahead of the rest of the field.
The event was hotly anticipated as a rematch of last month's Giro d'Italia time trial between Kiryienka (who had won) and Spain's Luis Leon Sanchez Gil, but with the Belorussian consistently setting new best times at each checkpoint while the Spaniard struggled to hold an even pace, the scenario never materialised.
Dutch cyclist Stef Clement added to his country's tally of cycling medals with a silver medal, a strong surge at the end of his ride being enough to relegate Sanchez Gil into third place.
"My first impression on the bike was good today. I divided my strength over the sections," Kiryienka said.
"In Belarus we have the same kind of roads, so I could prepare very well for this race.
"I did not pay much attention to the wind, but if other riders think that the wind dropped then all the guys who started after me must have had better conditions than me so they could have beaten me, but I'm the first one."