And also... Yoga 'incompatible' with Christian faith; and Algeria paella record attempt goes up in smoke
Comments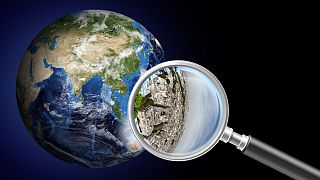 Every Friday journalists from euronews' various language teams choose a selection of stories from Europe and beyond which did not make the international headlines.
Spain: don't use the expression 'cosmetic changes,' asks perfumery association
The Spanish National Association of Perfumery and Cosmetics has sent a letter to the Popular Party's parliament speaker to complain about the use of "cosmetic changes." It comes after conservative politicians promised that government changes "won't be cosmetic."
The Association is worried that "cosmetics" appears related to something "superficial" or "lacking in value."
Greece: Yoga is 'incompatible' with Christian faith, says church
The Holy Synod, the Greek Orthodox Church's governing body, has denounced yoga – saying it is "incompatible" with the Christian faith.
According to a statement issued by the Synod, yoga is a fundamental part of the Hindu religion and is by no standards "a form of exercise."
"For this reason, yoga is totally incompatible with our Christian Orthodox faith and it has no place in the life of Christians," it said.
The condemnation was issued ahead of International Day of Yoga, introduced last year by the United Nations following a proposal from Indian Prime Minister Narendra Modi.
Biggest paella record fail… in Algeria
No, it didn't happen in Valencia, Spain, the motherland of paella, but in Oran during the taste festival which aimed to show the diversity of Algerian gastronomy.
An attempt was made to break the Guinness World Record for the biggest paella, using eight tons of rice, 1,000 litres of oil and tons of fish and meat.
But, unfortunately, it was burnt.
La Paella d'#Oran prend feu ? !!! pic.twitter.com/O3f3dUiG4e

— Ennahar TV (@EnnaharTvFr) junio 16, 2015
Celebrity fashion helps to save lives
Save The Children has teamed up with Victoria Beckham, wife of former footballer David Beckham, to sell her three-year-old daughter's clothes and raise money for charity.
But they are no ordinary clothes. Items at the 'Fashion Saves Lives' London sale were snapped up for hundreds of euros and included clothes designed by the likes of Ralph Lauren, Stella McCartney, Gucci and Marc Jacobs.
Within 40 minutes of the sale opening, over half of the outfits were reportedly sold. Ebay was also due to sell some of the clothing items.
#fashionsaveslives! Im donating Harpers clothes to savechildrenuk</a> Visit <a href="https://twitter.com/MarysLGShop_NW1">MarysLGShop_NW1 today & shop to support xvb pic.twitter.com/cP79XNm5WR

— Victoria Beckham (@victoriabeckham) junio 17, 2015
SOURCES
http://www.abendzeitung-muenchen.de/inhalt.verrueckte-ebay-auktionen-irres-video-nach-scheidung-mann-teilt-hausstand-mit-der-flex-auf.ac7c3231-d31e-487c-8ffa-8240800c267b.html
http://www.huffingtonpost.es/2015/06/17/cambios-cosmeticos_n_7602032.html?utm_hp_ref=spain
http://gr.euronews.com/2015/06/17/ellada-ekklisia-aforismos-giogka-symfono-symviosis/
http://www.tsa-algerie.com/20150617/video-insolite-le-recod-de-la-plus-grande-paella-tombe-a-leau/
http://www.savethechildren.org.uk/2015-06/fashion-saves-lives-victoria-beckham-donates-daughters-outfits-aid-save-children