European Games: Day six round-up
Comments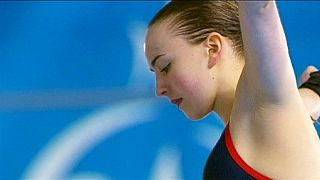 Russia's Aliya Mustafina survived a couple of wobbles to claim gold in the women's Artistic gymnastics individual all-around final at the European Games in Baku, Azerbaijan.
Also on day six of competition Oleg Verniaiev handed Ukraine gold in the men's individual event at the National Gymnastics Arena.
Russia added another shiny gold to their impressive collection when Nikita Shleikher upset the odds to win the men's 1m springboard event at the Baku Aquatics Centre.
15-year-old Lois Toulson of Great Britain continued her stellar 2015 by winning the 10 metre platform.
Russia's Abdulrashid Sadulaev won the -100kg wrestling gold overwhelming Piotr Ianulov of Moldova within 98 seconds.
Turkey's Taha Akgul rounded off six days of wrestling by winning gold in the freestyle heavyweights (+125kg) beating Aleksei Shemarov of Belarus.