Bomb blasts rip through Sanaa - ISIL blamed
Comments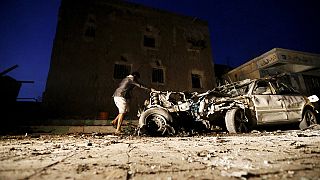 Four explosions rocked the Yemeni capital Sanaa on Wednesday killing at least 50 people.
This is an attack on the Yemeni people...
Three car bombs targeted Mosques and a fourth struck a rebel headquarters.
ISIL militants claimed responsibility saying the attacks were in "revenge" against Shiite Houthi rebels who have overrun Sunni majority Sanaa.
A local described one of the cars as being laden with explosives. "The one that passed through the street here," he said, "was a deliberate attack on the people of Yemen."
most serious attack
The attack is the most serious of its kind in Yemen since suicide bombers killed at least 137 worshipers and wounded hundreds during Friday prayers at two mosques in Sanaa on March 20. ISIL fighters claimed those attacks too.
peace talks
Meanwhile in Geneva news came through to Yemeni senior politician Abdel-Aziz Jubari, that his house in central Yemen had been blown up by Houthi rebels.
Jubari who is attending peace talks said he was shocked:
"While I am in Geneva and we came with open hearts and open minds in order to reach a solution, unfortunately, I was surprised to hear that thy blew up my house last night. This is regrettable that people's manners and behaviour can reach this point."
The UN brokered peace talks have now been extended despite both Yemen's exiled government and the Iran-backed Houthi rebels accusing each other of trying to sabotage the process.
background to conflict
The Houthi's seized Sanaa in September and pressed into the country's centre and south, forcing President Abd Rabbu Mansour Hadi into exile in Riyadh.
They say they are campaigning against corruption and political marginalisation.
A coalition of Arab states led by Saudi Arabia has been bombing the Houthis and their Yemeni army allies since March 26.
Their aim is to restore Hadi to power and to head off what they see as Shi'ite Iran's expansion in the region. The Houthis deny receiving military backing from Iran.