Greeks rally ahead of eurozone crunch talks
Comments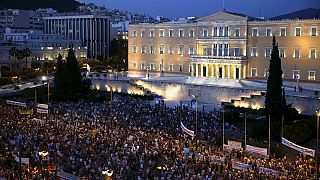 As the sun set over Athens, thousands gathered outside of parliament for an anti-austerity demo, but could the sun also be setting on Greece's future in the eurozone?
Announced on Facebook, thousands gathered on Syntagma Square to support the government in its negotiations with international lenders.
#Greece People gathering at #Syntagma sq. to join the pro-gov, anti-austerity demo. Pic by @Hibai_pic.twitter.com/yeqR7zfBYw#june17gr

— spyros gkelis (@northaura) June 17, 2015
Syntagma Square Now #Syntagma#Greece#athenspic.twitter.com/ug77AuMW5X

— spyros_vj (@spyros_vj) June 17, 2015
It comes ahead of a potentially decisive meeting of European finance ministers on Thursday which is being seen as the last ditch effort to stop Greece defaulting and pushing it towards a eurozone exit.
In a war of words, the Greek Prime Minister has drawn a red line at cuts to pensions, but one of his negotiators said they were ready to make other concessions to break the stalemate.
It is a form of brinkmanship unknown to the eurozone and has raised tempers across Europe. A member of one of Germany's ruling coalition parties has labelled the Greek government as clowns, and warned Athens that 'careless compromises' would not be made to keep them in the single currency.
Both sides are hoping the other will blink first.
If there's no deal Greece will run out of money within thirteen days, making investors very nervous.
At this point all scenarios are being considered, and contingency plans are being drawn up in case of a Grexit.
"Democracy, sorry..." #syntagmapic.twitter.com/NF2iyAOiE9

— Makis Sinodinos (@MakisSinodinos) June 17, 2015
Protesters are planning another rally for Thursday in support of Greece's place in the 28 member club with the slogan "We are staying in Europe".
Upper square still full of protesters at Athens anti-austerity rally. 2 hours in. #Greecepic.twitter.com/i5xoz4tHNM

— Mehran Khalili (@mkhalili) June 17, 2015