Athens rallies against austerity ahead of eurozone crunch talks
Comments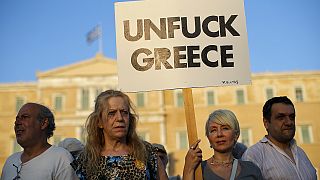 It may be 31 degrees Celsius in Athens, but the political temperature is at boiling point and the Greeks appear to be in a defiant mood.
We're bringing you live images from a rally to support the government as it negotiates with its international creditors – its slogan:
"We take negotiations in our hands – we demolish austerity".
Announced on Facebook, it is expected to attract thousands of protesters, who gathered on Syntagma Square in front of parliament.
It comes ahead of a potentially decisive meeting of European finance ministers on Thursday which is being seen as the last ditch effort to stop Greece defaulting and pushing it towards a eurozone exit.
In a battle of rhetoric, the Greek Prime Minister has drawn a red line at cuts to pensions, but one of his negotiators said they were ready to make other concessions to break the stalemate.
It is a form of brinkmanship unknown to the eurozone and has raised tempers across Europe. A member of one of Germany's ruling coalition parties has labelled the Greek government as clowns, and warned Athens that 'careless compromises' would not be made to keep them in the single currency.
Both sides are hoping the other will blink first.
If there's no deal Greece will run out of money within thirteen days, making investors very nervous.
At this point all scenarios are being considered, and contingency plans are being drawn up in case of a Grexit.