Volvo Ocean Race: Crews set sail in final leg
Comments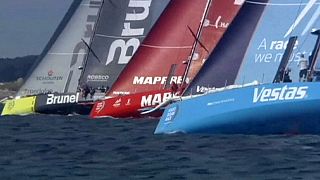 The seven-boat fleet of the Volvo Ocean race set sail for the ninth and final leg of the demanding round the world challenge on Tuesday.
The crews have a final 1000 nautical mile journey to undertake – setting off from Lorient in France to Gothenburg Sweden.
Overall victory is Abu Dhabi Ocean Racing's to lose.
Skippered by Britain's Ian Walker Abu Dhabi have an eight point lead in the general standings with Dutch Team Brunel in second.
They will only drop off top spot if they come home last whilst also suffering two penalty points for sailing infringements – which is an unlikely scenario.
The crews are expected to arrive next Monday or Tuesday.