Killers still at large in USA despite ten days of a huge manhunt
Comments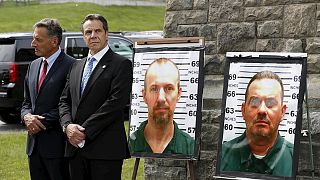 It is now day 10 in one of the biggest manhunts in US history as law enforcement officers try to track down and recapture two convicted murderers.
Sewers are being sealed , roadblocks check every car, and over 1000 officers are combing thick woods and trails to prevent the mens' escape.
Their escape from a maximum security facility, the Clinton correctional facility close to the Canadian border, was the first in its 150-year history. It is raising anxiety levels among the local population, many of whom live in isolated homes.
"I kept on getting more and more and more nervous until the point that I started carrying a weapon to protect myself if I had to. I'm not going to go out and seek anyone, if they come to me they're going to have to corner me and threaten me for me to take any action."
A prison employee, Joyce Mitchell, has been charged with helping the man escape by providing them with tools such as chisels and hacksaw blades. She has pleaded not guilty, and runs the risk of eight years imprisonment. She had previously been investigated for having an improper relationship with one of the men, but lack of evidence led to the accusation being dropped.
The police believe the men are still in the area, and have narrowed their search to a 13-square kilometre region, although there has been speculation that as the escape was so meticulously planned and executed, they must have been equally efficient at planning their getaway.