Iraqi refugees return home to Tikrit
Comments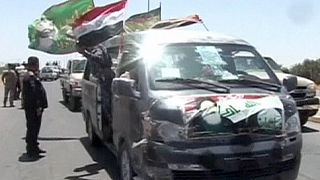 Hundreds of people displaced from the Iraqi city of Tikrit have begun returning home.
It is three months since pro-government forces recaptured former president Saddam Hussein's home town from ISIL militants.
Largely deserted since then, it is not clear what conditions will be like for the 300 or so families when they arrive.
The local governor, Raid al-Jibouri Saladdin said that an exceptional effort is being made by Tikrit's services department to restore the basics such as water, electricity and health care. Security is also a priority in order to provide protection for the returning families.
Iraqi officials say they are concerned that ISIL militants could re-establish a presence in places from which they have been driven out, by infiltrating the return population.
But failure to resettle strengthens ISIL's narrative that Iraqi Sunnis are better off under their rule than that of the Shi'ite-led government or Kurdish forces.
Other towns in eastern Iraq remain empty, months after they were recaptured by Iraqi forces due to political disputes and damaged infrastructure.
Meanwhile Shi'ite militiamen continue to fight in the hope of recapturing the city of Ramadi west of Baghdad.
The fall of Ramadi last month marked a major defeat for Iraqi forces, which had over the past months been making steady progress against the extremists with the help of US-led airstrikes.
It was in June, 2014, that ISIL militants overran Tikrit, capturing around 1,700 soldiers as they were trying to flee Camp Speicher, an air base previously used by U.S. troops on the outskirt of Tikrit. The fall of Tikrit was part of the onslaught by ISIL that stunned Iraqi security forces and the military, which melted away as the militants advanced.
Since then artists have put some of their work on line reflecting the brutality of what is said to have occurred in the city.
Iraqi artist depicts the Speicher massacre in Tikrit last year. 1,700 Iraqi Shia cadets were slaughtered in one day. pic.twitter.com/gszk0CYgKD

— Hayder al-Khoei (@Hayder_alKhoei) June 15, 2015