Italian PM: Europe cannot close its eyes to migrant crisis
Comments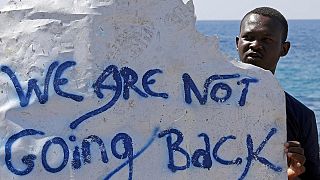 A group of African migrants have been left languishing on rocks overlooking the Italian coast, after being turned back at the French border.
They are stuck in the Italian town of Ventimiglia, close to the French Riviera.
As Italy faces a migrant crisis, a tightening of crossing controls by its neighbours is pitting Rome against Europe.
"Either this is a European problem and we solve it together. Or if it's just Italy's problem, because Europe closes it eyes, then we're in a position to face it," said Italian Prime Minister Matteo Renzi.
"But I say so with the disappointment of somebody who believes that Europe is one great house of values."
Renzi stressed that France, as well as other European partners, should not be sending ships to rescue migrants in the Mediterranean to then just leave them to Italy.
But French Interior Minister Bernard Cazeneuve said France would continue to turn back migrants, and that Italy must follow the EU's Dublin regulations, which assign most asylum seekers to the first EU country they enter until their application has been processed.
Swiss police have also been turning back migrants attempting to make it out of Italy by train.
The crisis is set to top the agenda when Renzi meets French President Francois Hollande and British Prime Minister David Cameron during a visit this week.