Israel prepares to repel boarders as 'Freedom Flotilla 3' tries to run Gaza blockade
Comments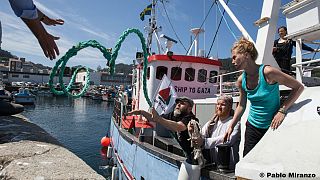 Another potential public relations disaster may heading Israel's way. While it looks unlikely to be a repeat of the deadly 2010 confrontation that had terrible repercussions for Israel on the international stage, a new Gaza Freedom flotilla is on its way to Israeli waters. Its backers insist it is a peaceful mission, but Israel sees it as a threat and will not let it land. In 2010 it was far from peaceful.
We are engaged solely in non-violent action in support of the Palestinian people and their human rights.
Five years ago a so-called "Gaza Freedom Flotilla" of six ships, the first, including Turkish and Greek vessels, made nine attempts to break the Israelis' blockade of Gaza. The ships were carrying humanitarian aid and building materials, activists, journalists, aid workers, and it is alleged a hardcore group of Turkish militants spoiling for a fight.
Israeli commandos boarded the vessels in international waters to impound them, and in the ensuing violence nine activists were killed outright, with one dying later of his injuries. Ten Israeli troops were injured, one seriously, as they were met with knives and iron bars.
Masters of the Sea, maligned in the media
The resulting diplomatic row led to a severe deterioration of Israel's relations with Turkey, hitherto one of Tel Aviv's only regional allies, and which have yet to be fully repaired. It also whipped up a storm of criticism internationally.
It represented a considerable coup for those seeking to promote the cause of the Palestinians. They were able almost unchallenged to point the finger at the Israelis' behaviour and condemn it as "aggressive" or "imperialist", the behaviour of a "bully" who was seeking to starve Gaza and its hundreds of thousands of Hamas-supporting civilians into submission.
The Israelis maintain a Gazan blockade is vital if it is to stop the indiscriminate firing of missiles from there into Israel. Stopping the missiles was the reason for the 2014 large-scale Israeli military incursion into Gaza.
A second "Freedom Flotilla" followed in July 2011, but it was blocked in Greek and Turkish ports and prevented from leaving. Since then several other vessels have attempted to land supplies in Gaza, or even sail from Gaza to rendezvous offshore. All have failed, and been impounded or destroyed.
Now the "Freedom Flotilla Coalition" is taking to the water again.
What is happening now?
"Freedom Flotilla Three" is now heading towards the Gaza strip in a fresh attempt to break the blockade. Crewed by activists united under the Coalition's banner, but with rigorous vetting and a new organisation, the three vessels are keeping their exact plans secret to make any attempt to head them off more difficult, although the ships will be joined by as-yet-unnamed VIPs when they dock in Athens on June 18.
What is the objective?
The flotilla is carrying solar panels and some medical supplies. Activists say this cargo
could allow the people of Gaza to produce clean energy after much infrastructure was destroyed by the Israeli bombardment in July and August 2014. However, even if they are unable to deliver it, they hope their mission will bring the subject of the Israeli embargo back onto the international radar.
Who is involved?
The most high-profile figure taking part in the current flotilla is former Tunisian President Moncef Marzouki. The group is also planned to include other as yet unnamed politicians, athletes, artists and activists including Spanish nun Teresa Forcades. and Canadian activist Robert Lovelace. The delegation told euronews that there are other participants expected to take part though they did not reveal any names.
In this video Lovelace explains : "Why I am going to Gaza with Freedom Flotilla III."
This time a lot of effort has gone into ensuring there is no group looking to manufacture a confrontation, even if all those participating know that Israel will use force if needed to prevent them from landing.
What is it like onboard?
Euronews correspondent Aissa Boukanoun spent three days on board the Marianne of Gothenberg which is sailing from Sweden to join the Flotilla.
The fishing trawler is rather modest fishing boat that can take only 13 people on board. The ship was bought thanks to donations from NGOs in Sweden and Norway. The other two ships are larger, but none will carry more than 30 people.
For most of its crew of volunteers the voyage is truly into the unknown. Their training has focused on how they can avoid any aggressive actions in case of an encounter with the Israeli Army. New arrivals are issued with a sea sickness patch and a "Behavior Agreement". Everything else is your own responsibility.
The key points from the Behaviour Agreement are:
Comply with all requests from security forces but do not sign anything you cannot read. Give no more personal information than your name.
Do not make any political statements during the voyage and avoid expressing support for any groups or parties.
On board Marianna each member of the crew has to comply to strict rules. Being a media representative does not mean the rules don't apply to you. The rules and duties of every crew member are set and distributed by Captain Apperdos. On a daily basis Aissa had to wake up at 7;30 in the morning, spending the next 4 hours on routine duties such as deck cleaning or cooking.
At 1600 hours we had a crew members' meeting on journey updates and our itinerary, as rules are strict for Marianne each time she arrives in a port. The rule was not only to fly Swedish and Palestinian flags but also the flag of the country of the port. Each time Marianne arrives in port, there are a huge number of supporters and activists greeting us or wishing to visit the ship. Being a crew member Aissa was also trained as Marianne's guide for any activists wishing to take a ship's tour.
What do they say?
The activists on board say they have only a humanitarian objective and do not support any particular political party. "We do not serve the agenda of any political leadership or group.
We are engaged solely in non-violent action in support of the Palestinian people and their human rights. This time we will reach Gaza," says Joel Opperdoes, the 32-year-old Swedish captain of the ship.
Ron Prosor, Israel's ambassador to the UN, described the mission as a provocation and said his country will prevent it from reaching its goal.
Hellen Huttu Hanson, a Swedish activist, said the risk of a confrontation with the Israeli military is a price worth paying for her: "Palestinian people live in Gaza and every day they risk their lives, we are all equal human beings so if we can show our solidarity by taking a risk just once, so why shouldn't we do that?"