Former papal envoy faces Vatican court on charges of child sex abuse
Comments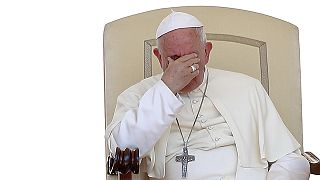 The Vatican is to put on trial its former ambassador to the Dominican Republic on child sex abuse and child pornography charges.
The former papal envoy and archbishop Jozef Wesolowski was defrocked in 2013 after being found guilty by a church tribunal.
He will be tried by a Vatican criminal court on July 11.
If found guilty the 66-year-old Pole faces between six and 12 years behind bars.
Marco Politi is a writer on Vatican affairs: "Wesolowski has been defrocked and now there will be a criminal procedure against him. And the fact that the Vatican now has fixed the date for the beginning of this trial means that Pope Francis wants to go till the end in this affair."
Pope Francis has also accepted the resignations of Archbishop John Nienstedt and his deputy, Auxiliary Bishop Lee Anthony Piche, from Minnesota in the United States following allegations the archdiocese covered up the sexual abuse of children.
Prosecuters allege the archdiocese ignored reports of inappropriate behaviour by a priest who was later found guilty of molesting two boys.