Migrants refuse to go away as French police prevent them crossing the Italian frontier
Comments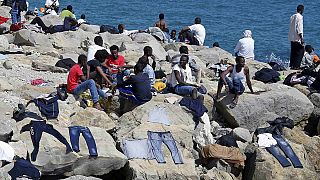 A stand-off continued on Sunday between French police and African migrants trying to cross over from the northern Italian coastal town of Ventimille.
The migrants were refusing to disperse opting to camp out on the nearby rocks. Some local people were giving them food and water.
The French authorities have been preventing them from crossing the frontier for the past two days, with the confrontation breaking out into occasional scuffles with police.
Italy is having to cope with a huge influx of migrants crossing over from North Africa.
In Rome the Red Cross are providing medical aid and have put up tents near to Tiburtina station to house migrants who are not registered in official camps. Previously they had no option but to sleep out in the city's parks and on the streets.
"They are people in transit – this is a new definition", said Flavio Ronzi of the Red Cross. "According to the law they are invisible, but they're not invisible from a humanitarian point of view. For us they are simply people and we are trying to respond to their needs."
In Milan too the train station is a hub for the migrants. They may have entered Europe through Italy but the fact is many are trying to move north to destinations like Germany, the UK and Scandinavia.