[Pictures] Sweden's Prince Carl Philip weds former reality TV star and model
Comments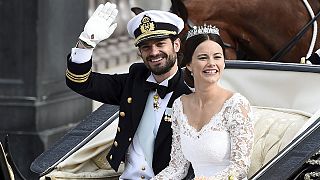 Sweden's Prince Carl Philip has wed a former reality TV star and model in a lavish ceremony in Stockholm.
The 36-year-old tied the knot with Sofia Hellqvist, 30, in the chapel of the Royal Palace.
Five European queens, a Japanese princess and dozens of other blue-blooded guests were among those attending.
Hellqvist, who has also worked as a yoga instructor, becomes a Duchess.
Carl Philip is third in line to the throne, behind his elder sister Crown Princess Victoria and her three-year-old daughter Princess Estelle.
Crowds of well-wishers turned out in Stockholm to see the newlyweds as they took part in a ceremonial procession.