Foo Fighters star Dave Grohl breaks leg during Sweden concert
Comments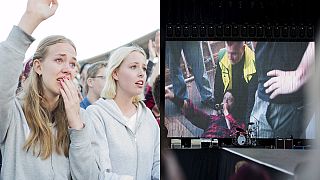 Foo Fighters singer Dave Grohl has broken his leg after falling off the stage during a concert in Sweden.
But the show must gone as they say and, after getting medical help, he returned to complete the set in Gothenberg.
The mishap apparently happened when Grohl went to jump on a ramp. He missed and ended up in the security area.
Thank you Gothenburg. That was amazing. pic.twitter.com/BXvuxIfVEv

— Foo Fighters (@foofighters) 12. Juni 2015