Australian Clinton Moore wins Athens leg of the Red Bull X-Fighters World Tour
Comments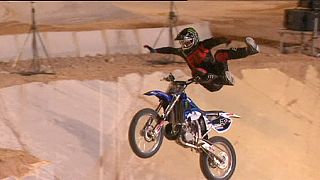 A sell out ten thousand crowd watched the Athens leg of the Red Bull X-Fighters World Tour in a marble quarry in the city.
It was meant to be a midsummer night's dream for the defending champion French rider Thomas Pages, it turned into a nightmare as he attempted his trademark Bike Flip.
He abandoned his bike in midair and tumbled into the white marble dust. His pride was damaged but he had no injuries.
He was out-ridden, out-tricked, beaten into second place by the winner Clinton Moore. The Australian had a tank full of spectacular tricks, the Bundy, the Flair and a Volt with the first no-handed landing.
It was Moore's second successive victory of the season. His reaction – over the moon he told reporters . Well not quite but he did leap pretty high on that bike.