Spain's King Felipe VI strips his sister of her title as Duchess of Palma over corruption charges
Comments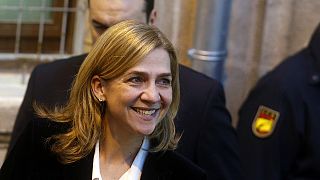 The King of Spain, Felipe VI, has stripped his sister Princess Cristina of her title of Duchess of Palma, amidst a corruption scandal.
Cristina is facing charges of tax evasion related to her husband's business affairs in a case that has embarrassed and scandalised the royal family.
Felipe ascended to the throne a year ago and is reported as wanting to distance the palace from the affairs of his sister and clean up the image of the monarchy, which is still controversial in Spain.
Princess Cristina's husband is Iñaki Urdangarin, a former Olympic handball player. He is accused, along with his former business partner, of creaming off six million euros of public funds from a charitable foundation that he chaired.
Cristina's lawyers say she trusted her husband to handle financial affairs and that she is innocent of the charges.
The princess remains sixth in line to the thrown.
The case is one of a string of corruption scandals that have outraged the public in Spain in recent years, especially when austerity measures are in place and unemployment is so high.