South Korea: two hospitals sealed off amid MERS outbreak
Comments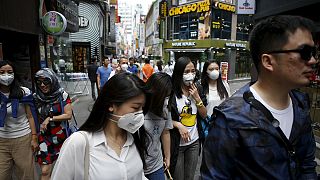 Two South Korean hospitals have been sealed off, in a bid to stop the spread of a deadly respiratory disease.
MERS has infected 126 people in the country and killed 11 since it was first diagnosed just over three weeks ago in a businessman, returning from a trip to the Middle East.
But the outbreak could have now peaked, with four new cases on Friday – the lowest daily increase in 11 days.
The number of people in quarantine has also gone down for the first time, to 3,680.
At least 133 people – patients and staff – are inside the two hospitals that have been sealed off. Both sites have been treating people with MERS.
The hospitals will be closed for at least the next 11 days, given the incubation period of the virus, officials said.
Meanwhile, health representatives from Saudi Arabia have been meeting South Korean authorities, to share their first hand experience of MERS. It was first identified in humans in Saudi Arabia, in 2012.