Save the Children Fund expelled from Pakistan
Comments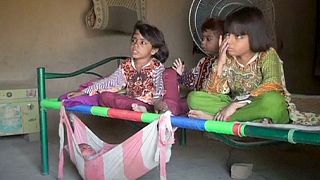 The doors to the Save the Children Fund offices have been locked in Pakistan and the charity's work stopped.
Police took the action in Islamabad under government instructions which has accused the charity of spying.
With the move came a warning that Pakistan is to tighten up on aid groups and activists.
The government has given Save the Children 15 days to leave the country. Its comment on the move – no comment.
"They'll not be commenting on a decision that has been taken by the government. Our decisions are always well-considered," Qazi Khalilullah Pakistan Foreign Ministry spokesman told reporters.
In a statement the charity said it will be raising its concerns, "at the highest levels" while one official said several staff had been denied visas since 2012 and that Pakistani authorities had blocked aid to millions of children and their families.
Save the Children Fund has been in Pakistan for over 35 years but has had run ins with the government since 2011.