Greece's public broadcaster returns after two-year shutdown
Comments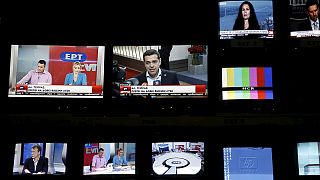 Once described as a "haven of waste", Greece's public broadcaster relaunched on Thursday evening with a live concert by famous local musicians in central Athens.
The return of ERT radio and TV channels comes two years after they were scrapped as part of austerity measures by the previous administration.
Prime Minister Alexis Tsipras made the broadcaster's reopening a key election pledge.
"Today ERT is back, once again tasked with providing a service to Greek society of prompt and impartial information. The stakes are high; to show that a public organisation can serve the public interest," said Tsipras.
It's thought around 1,500 staff are being gradually rehired as programming progressively resumes.
Reporting from the reopening, Nikoleta Drougka, our correspondent in Athens said: "Here at the ERT headquarters, the mood is celebratory. But the public reaction is mixed. No-one can forget the manner in which the broadcaster fell silent two years ago. For now though, black screens have turned into colour and empty studios into busy workplaces once again."