French plan to protect bees under scrutiny
Comments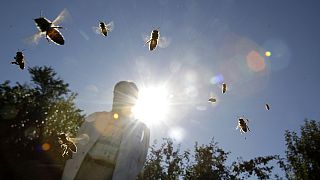 The decline in bee populations has been well documented for years. Now, following in the footsteps of the US, in Europe a recent move by France to protect pollen carriers is being watched with interest.
Last month the French Ecology Minister Segolene Royal announced plans to create protective zones and regenerate green spaces along the nation's roads, to reverse the decline of bees so vital for food production.
It also plans to extend an EU ban on certain types of pesticide, due to run out at the end of the year.
Neonicotinoids are synthetic chemicals that act systemically, meaning they are absorbed and spread through the plant's vascular system, which becomes toxic for insects sucking the circulating fluids or ingesting parts of it.
Beekeepers say the neonicotinoids affect bees' nervous systems which eventually lead to their death.
However there have been claims that the ban has been ineffective and has resulted in a resurgence of pests.
Several reasons have been invoked for the decline in the bee population – from disease, pollution and climate change, to pesticides and parasites such as a particularly damaging one from Asia.
"Our local bees have become sensitive to new previously unknown diseases. The same thing happened when we went to America and brought smallpox which killed all the Indians. Chinese products have brought plenty of Asian diseases which are killing our bees," said beekeeper
Julien Perrin, who has a farm near Paris.
Some scientists argue that loss of habitat is the major factor in the bees' decline and say the agrichemical industry remains too powerful.