France: former IMF chief Strauss-Kahn cleared of pimping charges
Comments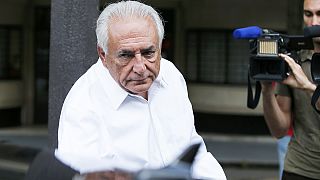 Former IMF chief Dominique Strauss-Kahn has been cleared of pimping charges in France.
The trial hinged on sex parties that took place in the midst of the global financial crisis, events described by Strauss-Kahn as much needed "recreational sessions."
But the 66-year-old said he did not know the women who took part were prostitutes.
"The indictment of Dominique Strauss Kahn was based on ideology, put forward on moral criteria, but with no legal basis. As we said before, there are no facts, of any nature, showing he is guilty of pimping," said Henri Leclerc, a lawyer representing Strauss-Kahn.
Judges ruled Strauss-Kahn was not involved in hiring the women or paying them.
Belgian co-defendant Dominique Alderweireld was also cleared.
He told journalists that he was expecting to get a prison sentence, adding that the judges showed courage.
Strauss-Kahn's acquittal was the last step in four years of legal drama.
It began when a New York hotel maid accused him of sexual assault in 2011, killing his ambitions to be French president. That case was later settled out of court.