Children in jobs means even worse future, says ILO
Comments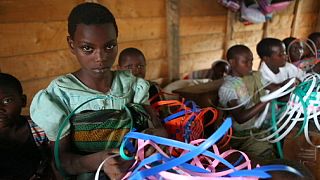 Almost 170 million children are condemned to work full-time jobs today, with no schooling and poor future prospects.
The International Labour Organisation's annual World Report on this says many of these child workers are practically slaves.
The ILO report released ahead of the World Day Against Child Labour (June 12th)
says these 5-14-year-olds are exposed to stress and trauma, and more than half are used in dangerous jobs such as mining and construction.
The Asia-Pacific region has the largest number of child labourers with almost 78 million, or 9.3 per cent of the children in the countries there. Sub-Saharan Africa has the highest rate with 59 million or more than 21 per cent. Latin America and the Caribbean has 13 million and the Middle East-North Africa region some nine million.
In this slum in New Delhi, India, they pick through rubbish for rags to recycle. In India, the law allows under 14s to work in non-hazardous industries. There are fewer restrictions on 15-18-year-olds.
Ten-year-old Paarvati, who starts at five every morning, said: "I want to go to school. I hurt my hands a lot and it stinks, but I help my parents."
Activists say putting children to work only reinforces the poverty cycle.
Paarvati's father said he must: "I can't manage unless my three daughters work with me. If they don't work, where will we get the money for food? I, my wife and children together barely make €7 a day."
The Indian government has approved changes to the law that would ban children under 14 from working, unless it is in a family business, sports or entertainment, and does not interfere with their education.
Rising youth unemployment can also drive child labour, the ILO said, as poor job prospects may stop parents from investing in their children's education.
The ILO urged world leaders when they decide on new development goals in September to come up with a coherent policy to tackle child labour and the lack of decent jobs for youths.