Final countdown to Rugby World Cup 2015
Comments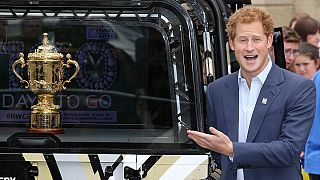 Former England international Jonny Wilkinson and Prince Harry sent the Webb Ellis Cup on its tour of Britain to mark 100 days until the start of the rugby World Cup.
Its journey will start in Scotland on Thursday before making its way across the rest of Britain and the Republic of Ireland ahead of the main event which gets underway in September.
The tour will visit over 300 events including rugby clubs, sporting events, schools, community festivals and iconic landmarks.
The World Cup will be held in England and Cardiff between September 18 and October 31.