1 million EURO 2016 tickets up for sale
Comments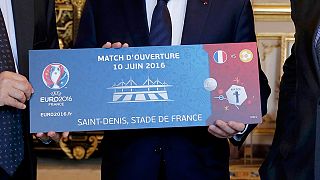 Let the party begin! It's one year and counting until France kicks off UEFAEURO 2016 and its host cities are planning a series of celebrations over the next ten days.
Whether you can afford pitchside or the nosebleed section, now's your chance to buy your footie tix to UEFAEURO 2016. This first round of ticket sales closes 10 July.

Where can I get tickets:?www.uefa.com
What do they cost?
From 25 to 895 euros for the final; the average match will cost around 85 euros.
Where are the matches:?
Bordeaux, Lens, Lille, Lyon, Marseille, Nice, Paris, Saint-Denis, Saint-Etienne, Toulouse.
Will there be disappointments?
Yes, because it's quite certain there will be more demands. There needs to be a lottery.



Note that after 10 July tickets will be allocated by a random selection process.