Greeks agonise over prospect of more austerity measures
Comments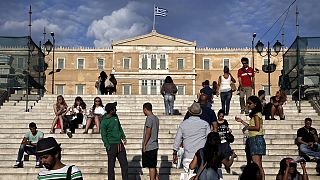 With a debt crisis now in its fifth year, Greece has become used to painful, drawn-out negotiations with international lenders.
Enough is enough, there's nothing left to be taken from us
But to many Greeks already hit hard by half a decade of austerity, the latest tax hikes and pension cuts demanded by creditors have a particularly bitter taste.
"The average Greek family has lost over 40 percent of its income during the crisis, and some families even more," said Napoleon Maravegias, Professor at the School of Economics and Political Sciences of the University of Athens.
"Therefore you realise that no Greek government or political party can convince the people that more austerity measures like these are a solution to their problems," he told euronews.
Creditors are asking Greece to increase value-added tax (VAT) rates on a number of goods and services including electricity, which would see VAT rise from 13 percent to 23 percent – at a time when some struggling Greek families are already unable to pay their bills, and living in the dark.
In Athens, one man complained: "A 23 percent VAT on electricity would create a domino effect of price increases for many other goods. In these difficult times such policies are completely inappropriate."
Greece's pension system has for its part been crumbling under the crisis and it's among the most expensive in Europe. But more pension cuts would be unacceptable to many.
"I have suffered too many cutbacks in my pension already. Enough is enough, there's nothing left to be taken from us," said one woman.
Recent government figures show nearly 60 percent of retired Greeks live with pensions of 700 euros a month or less, while 45 percent of pensioners hover around the poverty line and depend on charity to survive.
Our reporter in Athens Stamatis Giannisis said:
"Claiming that Greece is facing a humanitarian crisis, Prime Minister Alexis Tsipras and his radical left Syriza party are refusing to give in to creditors demands, saying additional austerity measures would do nothing more than deal another blow to the country's flailing economy."