Turkish lira hits record low as election brings uncertainty
Comments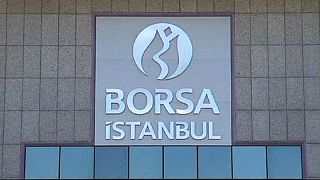 Turkey's financial markets have taken a hit as the country faces uncertainty following Sunday's (June 7) parliamentary elections.
The main stock market index was down by more than 7 percent, while the lira fell 5 percent to a record low of 2.79 against the dollar. Turkey's central bank quickly cut rates of foreign exchange borrowing to prevent further free fall.
Government bond yields, meanwhile, spiked to 9.94 percent on Monday (June 8), as investors rushed to unload the country's sovereign debt.
Investors had been hoping for a clear win for President Recep Tayyip Erdogan's ruling AK Party, but with just 41% of the vote the party is facing a minority or coalition government – or even a new election.
Markets aside, many citizens welcomed the end to the AKP's 13-year-long single party rule.
"I believe this is a good result for democracy. I am in favour of a multi-cultural parliament in Turkey and anywhere in the world. A genuine democracy can be achieved by lifting the threshold. I think this is a very good result and I am very hopeful."
For the first time, the country's pro-Kurdish HDP exceeded the current 10% threshold, taking over 12% of the vote or around 79 parliamentary seats.