Orbán and al-Sisi talk stability as Egypt's leader visits Hungary
Comments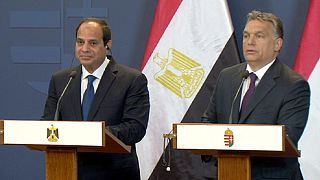 The importance of stability was the message the leaders of Egypt and Hungary wanted to convey as President Abdel Fattah al-Sisi visited Budapest.
He called on his hosts to help make Egypt's achievements and challenges understood in the European Union.
The two-day visit which began on Friday is part of a European tour by the Egyptian leader.
The Hungarian Prime Minister Viktor Orbán, who has previously warned of a threat to Europe's Christian identity, praised Islam as "the world's great spiritual and intellectual creation".
"Egypt is a special country. Without Egypt there is no stability in the Arab region and since distances are short in the modern world, we can say that there is no stability either in Europe without a stable Egypt," Orbán told a joint news conference.
President al-Sisi replied: "I have to thank Hungary for its positive behaviour towards Egypt despite the negative position of other countries which ignore the challenges which (we are) facing".
Egypt's clampdown on Islamists since the Muslim Brotherhood was overthrown has led to numerous death sentences, a penalty Orban said should be "kept on the agenda" in Europe.
Reporting for euronews from Budapest, our correspondent Attila Magyar said:
"Following recent events in Egypt the president's European tour shows he wants to build bridges, but there is a long road ahead… after their talks the two leaders did not mention issues like the death penalty, and journalists were not allowed to ask questions."
The two leaders signed a declaration of cooperation between the two countries, paving the way for boosting economic, military and security ties.