Argentina: thousands of protesters call for end to 'femicide'
Comments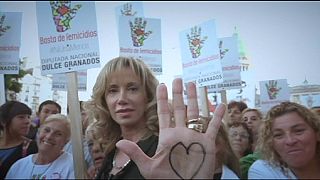 Thousands of protesters have taken to the streets of Buenos Aires to call for tougher measures to end "femicide" – the killing of a woman by a man because of her gender.
In one recent case, a teacher had her throat slit by an estranged partner, in front of her classroom.
"The judges, the sentences, that's what's the most important. Because today people kill and tomorrow they are free, and the next day they go on killing. They keep killing because nothing happens," said demonstrator Cristina Hermoa.
Another protester, Marcos Gomez, added: "I want to say sorry in the name of all men in this macho society.
"We grew up thinking it was okay to catcall women in the street, it was part of our heritage, people thought it was fun. We weren't aware of the harm against women."
More than 270 "femicide" cases were reported in Argentina last year alone.
Wednesday's rally took place outside the Argentine National Congress in Buenos Aires. President Cristina Fernandez de Kirchner expressed support for the action on social media.
Protests also took place in other parts of Argentina. There were rallies in Chile and Uruguay as well.