Myanmar lands 700 boat people, says most belong to Bangladesh
Comments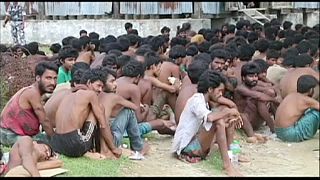 Myanmar brought ashore more than 700 boat people it had blocked at sea for days, as the United States on Wednesday called on the country to solve a migrant crisis by recognising the rights of its Muslim Rohingya minority.
But Myanmar authorities said they believed most of the migrants were from neighboring Bangladesh – and they took them away in buses towards the border. The Rohingya were held separately at their landing point, Reuters news agency reported.
In this Southeast Asia migrant crisis, Bangladeshis are fleeing misery, while the Rohingya are fleeing Myanmar where they are discriminated against, and most try to reach Malaysia via Thailand.
Since the Thai government launched a crackdown on people-smuggling gangs last month, more than 4,000 migrants have been left drifting at sea and landing in Indonesia, Malaysia, Thailand and Myanmar.
A senior Thai general suspected of involvement in human trafficking turned himself in on Wednesday, though he denies any wrongdoing.
It is the most high profile arrest since the Thai police crackdown led to the grim discovery of dozens of graves, believed to be those of migrants, near the Malaysian border.
"We have issued 84 arrest warrants, 51 suspects have either been arrested or turned themselves in, and 33 remain on the run," Thailand's deputy national police chief told a news conference.
Back in southern Bangladesh near the Burmese border, in the camp of Kutupalong where the first wave of Rohingya Muslims from Myanmar are being sheltered, there is fear that the Bangladesh government also wants them out of sight and that they will have to move yet again.