Turkey's refugees weigh on border voters' minds and wallets
Comments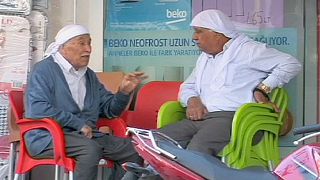 Refugees have become an election concern in Turkey.
Our correspondent Bora Bayraktar reported: "Reyhanlı, at Turkey's with Syria, is one of the towns that's been affected the most by the neighbouring country's civil war. Its population has almost doubled since the conflict started."
A minority of these refugees live in camps. The vast majority live side by side with the local population. As a result, rents have soared, food has become more expensive, and the price of manpower has slumped. For any labour-intensive activity in Reyhanlı, Syrian refugees are employed for less than local workers.
A small business owner said: "For example, building a wall should be worth something like 50 lira [around 17 euros]. But Syrians will undercut that price, and it's rough on the people of Reyhanlı."
Another resident said: "Cross-border trade has dried up. That used to provide a livelihood for around 70 per cent of the people here. Now it has stopped."
While, according to a third: "Since the Syrians started coming, the state has been helping them. But it does not help us as Turkish citizens."
The government says it has spent 5 billion dollars on refugees since 2012. With the approach of the elections, analysts say the Syrians might have an impact on the voting. The residents of Gaziantep, another city hosting many Syrians, share similar complaints with other Turks in the region. But not as much as some might expect, explained analyst Talha Köse.
"This many people coming in may cause great tension but even the opposition parties have not used it as a political tool. They deserve credit for that. Although the CHP (Republican Peoples Party) has mentioned this problem in their electoral program, for the last 3-4 years they haven't used it against the government. That might change parameters here a bit. There is a reaction here, but I don't think it will change the structure of Turkish political life in a radical way. I don't think the refugees have reached the level of a political backlash such as we see from far right anti-immigrant groups in Europe."
However, Turkish media in April reported that the head of the main opposition CHP, Kemal Kılıçdaroğlu, addressed a rally with the words that (if it came to power): "…We have humanity in our hearts, we love and respect people, but will send our Syrian brothers back."