Saudi-led airstrikes kill at least 80 in Yemen
Comments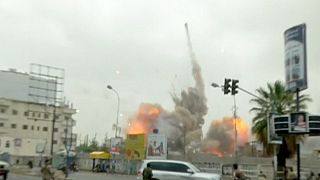 A day of deadly bombing by Saudi-led warplanes has killed at least 80 people in Yemen's capital Sanaa and in an area along the border with Saudi Arabia.
One strike targeted a Special Forces military base controlled by Houthi rebels.
Witnesses said many civilians were caught up in the blast.
The Saudi-led coalition began its air offensive last March to restore Yemen's president Abd Rabbu Mansour Hardi to power.
Houthi rebels backed by Iran had been making sweeping gains across the country.
Earlier in the centre of the capital Saudi jets appeared deliberately to target a car believed to be carrying Houthi rebel leaders. T
Sunni Arab states see the Houthis as a proxy for projecting the power of Iran in the Arabian Peninsula.
Yemen's exiled government in Saudi Arabia has said the Houthis must recognise its authority and vacate Yemen's main cities before peace talks can begin.
Although the Saudis are leading the air strikes they are also sending in tonnes of much needed aid. The conflict has caused a humanitarian crisis with major shortages of food fuel water and medicines.
Yemen: WHO</a> says almost 7.5 million people are in urgent need of medical help <a href="http://t.co/h6iO0jCybL">http://t.co/h6iO0jCybL</a> <a href="http://t.co/OyjkomkaEu">pic.twitter.com/OyjkomkaEu</a></p>&mdash; United Nations (UN) May 27, 2015