US hands looted artifacts back to Italy
Comments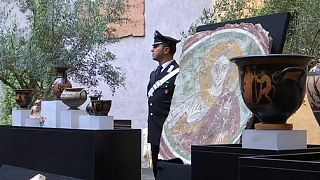 The United States has returned 25 artefacts that were looted from Italy and later ended up in top museums universities and private collections.
Etruscan vases, 1st-century frescoes and precious books came to police notice when the Italian authorities tipped them off after seeing them in auction catalogues or gallery listings.
US Ambassador John Phillips joined Italy's carabinieri police in Rome to show off the haul some of which had been handed over voluntarily.
The Italian Minister of Cultural Heritage and Activities and Tourism, Dario Franceschini, said more preventive action needs to be taken to stop the theft of cultural heritage.