Ship abandoned off German coast amid explosion fears
Comments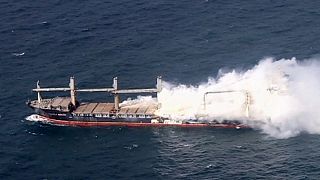 A ship carrying fertiliser has been abandoned off the coast of Germany amid fears of an explosion.
Resident along the North Sea coast, in the region around Bremerhaven, had reported a strong smell, likely caused by fumes from the vessel.
The crew of the "Purple Beach," flagged in the Marshall Islands, had reportedly noticed smoke coming from the ship's hold late on Monday.
Crew members were brought to land on Tuesday. No serious injuries were reported.