France honours four WWll Resistance heroes
Comments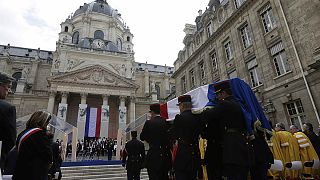 The coffins of four World War ll Resistance figures were escorted through the streets of Paris yesterday ahead of today's official ceremony where they will be inducted into the legendary Pantheon – the resting place for French heroes.
The four – two men and two women are being honoured in this way to symbolise French efforts against extreme violence – in this case those who resisted the Nazi occupation.
The coffins which only contain soil from their graves as their families did not want their remains disturbed, stayed over night at the Sorbonne university
Genevieve de Gaulle-Anthonioz , Germaine Tillion, Pierre Brossolette and Jean Zay will join 71 other celebrated French citizens already in the mausoleum. They include the likes of Rousseau, Voltaire and Marie Curie. Today's French President Francois Hollande will attend the ceremony .
France's 'great women' finally celebrated as two heroines of French Resistance admitted to the Pantheon http://t.co/6rijNrpYhP

— Hassan Tawfiq (@HTawfiq1) May 26, 2015
"Genevieve de Gaulle-Anthonioz"http://memoiredeguerre.pagesperso-orange.fr/biogr/anthonioz-degaulle.htm who was the niece of President Charles de Gaulle was deported to the Ravensbruck concentration camp for women. She survived and later devoted her life to helping the poor. She became the first woman to receive France's highest Grand Cross of the Legion of Honour award. She died in Paris 2002 at the age of 81.
Germaine Tillion became an anthropologist after surviving being deported to Ravensbruck. She too was granted the Grand Cross of the Legion of Honour . She died in 2008.
Jean Zay a war time minister of education for the Popular Front ( a war time alliance aimed at resisting fascism. He was assassinated in 1944.
Pierre Brossolette was a journalist and former head of the Central Bureau of Intelligence and Operations. He was arrested in 1944 and was killed when he was thrown out of a window.