Malaysian forensic officers examine remains of migrants found along Thai border
Comments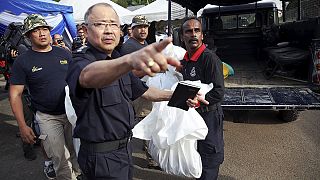 Police forensic teams in Malaysia are at work to identify whether the remains uncovered at 139 grave sites and 28 abandoned camps are Bangladeshi or Rohingya migrants.
Authorities are unclear as to how many bodies are buried in the remote area along the Thai border.
Human traffickers are suspected of being behind the deaths.
Police believe the victims died of starvation or disease while being incarcerated by traffickers waiting for payment before moving the migrants deeper into Malaysia or across the border to Thailand.
Thailand has ordered its navy and air force to provide humanitarian assistance to migrants adrift on the Andaman Sea.
The navy will donate food, fuel and medical help to allow the vessel to continue at sea, the boats will not be allowed to dock in Thailand.
The operation is scheduled to last two weeks.
The Thai navy believes as many as 4,000 people are currently drifting on the Andaman Sea.