Greece deals with sudden influx of new migrants
Comments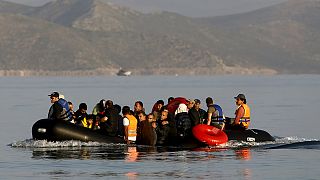 As several boats carrying at least 300 more migrants reached the Greek island of Kos on Tuesday, the European Commission is due to give more details of its relocation programme for asylum seekers.
Reports say one idea is to resettle in other countries only new migrants arriving in Greece and Italy, not just those already being held in camps – in response to scepticism from governments and anti-immigrant sentiment.
The EU Commissioner for Migration said Greece would be one of the first countries to take part in a relocation programme.
"We plan to propose to member states that the emergency mechanism be activated , so that a substantial number of asylum seekers can be re-settled from the front-line countries such as Greece to other EU member states," Dimitris Avramopoulos said.
The Commissioner added that Greece was "under extreme pressure and is facing serious problems".
A lack of facilities means some in Kos have taken over an abandoned hotel.
Coastguards say more than 1,200 migrants, many from Syria, have arrived on Greek islands over the past two days alone.