Brazil: Prison riot leaves eight dead
Comments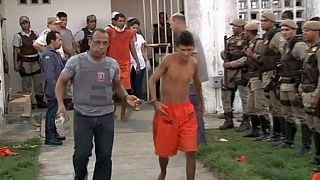 Inmates at a Brazilian prison who had been holding at least 70 people hostage have finally released them after negotiating with police.
The standoff followed a riot between rival gangs in Feira de Santana jail in the northeast of the country..
Eight people were killed. in violence. The hostages were visiting family members. They included children and a number of elderly people. Inmates freed them in batches over two days.
An investigation is being carried out into what started the riot. The prison houses 1,467 inmates but is only designed to house 644.