Spain's PM Rajoy disappointed by results in local elections
Comments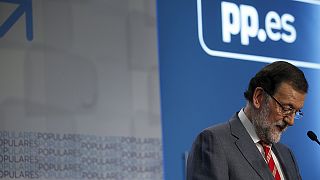 Spain's prime minister has acknowledged he was disappointed with his party's showing in local elections. He attributed a drop in support largely to austerity measures his government implemented during Europe's recent debt crisis and a string of political scandals.
"This has always happened throughout history. When there is a social and economic crisis like the one we've been going through, governments suffer," said Mariano Rahoy. "That had an impact on us, without any doubt. Also having an impact were the corruption cases that happened or that were recently unveiled, even if they happened a long time ago."
The elections on Sunday (May 24) in many Spanish cities and regions dealt a serious blow to Rajoy's governing Popular Party (PP).
Though the conservative PP won the most votes overall, capturing 27 percent of votes cast, it lost the absolute control it had in eight of the 13 regions, including in its traditional power bases of Madrid and Valencia.
Rajoy, who is also the PP's leader, said economic recovery and job creation were priorities before Spain's general election this autumn.