US-led airstrikes and Iraqi militias target ISIL near Ramadi
Comments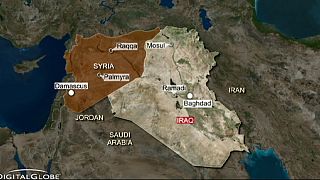 The US military says coalition forces have staged 22 air strikes on self-proclaimed Islamic State targets since Friday.
The strikes included four near Ramadi, the Iraqi city taken by ISIL earlier this month.
A fightback against the Sunni jihadists has been launched involving an offensive by 2,000-3,000 mostly Shi'ite pro-government militias east of Ramadi.
A leading Sunni Iraqi figure has called for a bridge he claims was closed by the authorities to be re-opened to allow displaced people to reach Baghdad.
The past few days have seen tens of thousands flee Ramadi and the violence in Anbar province.
There have been fears that militants might be hidden in the crowds, but the government waived restrictions and granted them entry on condition that each family should have a sponsor.
Some said they had no belongings and had to sleep outside.
Following ISIL's seizure of Palmyra in Syria, the UN Security Council said it was particularly worried about the fate of women and children in the city, given the jihadists' record of abduction and exploitation.
The extremists are said to have planted their black flag on the roof of the citadel which dominates the city, compounding fears that the site's historical ruins may be destroyed.