Murdered Archbishop Oscar Romero beatified in El Salvador
Comments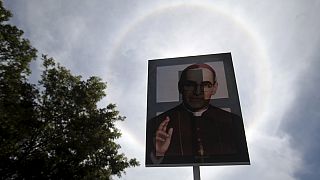 Around a quarter of a million people have attended a beatification ceremony in El Salvador for Archbishop Oscar Romero, 35 years after his assassination.
The bloodied shirt he died in was paraded through the crowd, which included former Marxist rebels as well as Catholics from around the world.
Romero's path to sainthood stalled under the last two pontiffs but he was declared a martyr earlier this year by Pope Francis.
The archbishop was gunned down as he celebrated mass. He had become a staunch critic of the repression of the poor by the military dictatorship, which involved widespread arrests and the use of torture and death squads.
Only the previous day he had delivered the last of many denunciations of the killings.
No-one has ever been prosecuted for his murder.
After Romero's death, tens of thousands died in the civil war which broke out between the US-backed government and leftist insurgents, who now form the ruling party.
The war ended in 1992 but gang violence has continued to this day. With around 15 murders a day, El Salvador has one of the highest murder rates in the world.