Explained Cameron and the EU: what does a Brexit mean?
Comments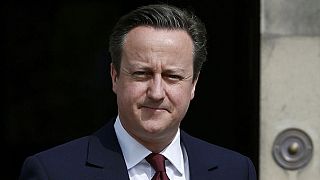 The Conservative Party, led by British Prime Minister David Cameron, beat all expectations to win a parliamentary majority in the UK's general election on May 7.
It raises the prospect of Britons getting the chance to vote in an in/out referendum on EU membership before the end of 2017.
Cameron will be hoping that this gamble will pacify the Eurosceptic wing of his party and finally see off the threat of Nigel Farage's UK Independence Party (Ukip).
Tory infighting over Europe saw the last two Conservative premiers, John Major and Margaret Thatcher, pushed out of office by rebel ministers and backbench MPs.
Cameron says he will only offer the British public the chance to vote on severing all ties with Brussels once he has secured a series of reforms from the 28-member bloc.
What does Cameron want?
The UK has not formally laid out any demands in Brussels as yet, but the prime minister gave two speeches during his last term that floated a number of ideas: one at Bloomberg News in London, and another address in Staffordshire, central England.
The big takeaways from those speeches is that London will seek tougher curbs on immigration; tighter restrictions on EU migrants' access to welfare benefits, and a better-functioning single market.
There are also some general principles laid out in the Conservative Party's election manifesto.
They include:
Eliminating existing barriers to trade inside the EU's single market.
Stopping the eurozone members from imposing rules on non-eurozone members.
Granting national parliaments the power to club together and block EU laws.
Ditching the EU treaties' commitment to ever-closer union.
Cameron is expected to unveil his 'shopping list' of EU reforms at a forthcoming summit on June 21.
He has previously signalled that he would be willing to campaign to leave the EU if those demands are not met.
Can Cameron succeed?
The British prime minister will need to engage in some serious diplomatic arm-twisting to convince all 28 EU capitals that the UK should get the reforms that the government is looking for.
They "will meet stiff resistance from other member states," said Michael Leigh, a senior fellow at the German Marshall Fund think-tank.
"Central European governments have declared their opposition to any limitation on the free movement of workers," Leigh wrote in a note on May 18.
"German chancellor Angela Merkel and French president François Hollande share some of Cameron's reform goals on immigration, the single market, and labor law but will not pay any price to keep Britain inside the EU," he said.
It's an unenviable task that Cameron has. It will be a real balancing act to keep the Eurosceptic wing of his party happy – and preventing further defections to Ukip – and keep his EU allies onside.
How will it be done?
Cameron will need to sell any concessions he wins from Brussels as a major overhaul of the way the EU works.
For Downing Street, this means achieving any reforms through treaty change.
Jean-Claude Juncker, the president of the European Commission, has ruled out any major changes to the texts that govern the way the EU operates, stressing that there were 'red lines'.
"When one mentions the end of the free circulation of workers, there can be no debate, dialogue or compromise," he said in January.
"We can fight against abuses but the EU won't change the treaties to satisfy the whim of certain politicians."
There's not much enthuasism from member states either. Neither Merkel nor Hollande wants to enter a lengthy negotiation process.
Some experts say British reform demands could be satisfied without a major treaty change. Among them are Michael Emerson of the Centre for European Policy Studies and Steve Peers, a professor of EU law at the University of Essex, UK.
That means tinkering with existing EU legislation. It would require all 28 EU leaders to agree, but wouldn't throw up the prospect of other countries having to hold a referendum; Ireland's constitution says the government cannot ratify a new EU treaty without consulting the public first.
What would a Brexit mean for Britain?
The United Kingdom might look a lot less united if the Scottish National Party get their way.
If voters decide to quit the EU, the SNP say they will push for a second referendum on independence.
The party, led by Scottish First Minister Nicola Sturgeon, says remaining inside the European Union is a top priority.
So a break-up from Brussels, but also a break-up of Britain.
And then there's the economy.
The Open Europe think-tank reckons that leaving the EU could cost the British economy 2.2 percent of its total economic output (GDP) by 2030 .
It would cost the UK 78 billion euros annually if London quits the bloc and fails to agree a free trade deal and pursue a free-market, pro business agenda.
Some firms have already said that they would look into leaving Britain if a 'Brexit' becomes a reality.
The Financial Times reported on May 18 that Deutsche Bank, which employs 9,000 people in the UK, has already set up a working group to consider such a scenario with a view to quitting the country.
Asian giant HSBC says it too might relocate its HQ out of London, whilst carmakers Hyundai, Ford and Nissan would mull their investments in the UK if Britons voted to leave.
Former Deputy PM Nick Clegg repeatedly claimed that three million jobs would be at stake if Britain left.
But Ryan Bourne of the Institute for Economic Affairs, a free-market think-tank, wrote in March that "there is no evidence to suggest that trade would substantially reduce between British businesses and European consumers, even if the UK was outside the EU."
"The 3 to 4.2 million jobs are associated with trade, not with being a member of a collective political union with 27 other states,," he said.
What would a Brexit mean for Europe?
Eurocrats fret that a renegotiated British relationship with Brussels may open a Pandora's box; it could set the example for many other members of how they should deal with the EU – a membership à la carte.
Some in Brussels may cheer the departure of a country some see as the EU's awkward customer, but on big question is who would pick up the tab?
The UK's national contribution to the EU budget was 14.5 billion euros in 2013, the latest year for which figures are available.
And what would the economy look like? Many Baltic and northern European nations back Britain's 'Anglo Saxon' free-trade stance in EU negotiations? Would a European Union without the United Kingdom become just a little bit more 'protectioniste'?
Conclusion
So huge challenges lie ahead for Cameron and his lead EU negotiator, Chancellor George Osborne.
Get it right and the pair might just settle the 'British question' once and for all.
Get it wrong and Britain could be sleepwalking towards the EU exit door, with Scotland dragging its heels to stay inside.