Skiers climb seven alpine peaks within 24 hours
Comments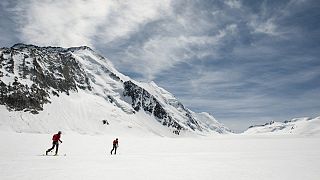 An incredible time-lapse video has been created following the journeys of two mountaineers as they climbed seven mountains in the Alps in just under 24 hours.
Frenchman Tony Sbalbi and Bernard Hug from Switzerland managed to climb and ski across a total distance of 13,123 feet in a day last week and their efforts were captured from the top of a nearby summit.
The beautiful time-lapse captures in stunning HD the transition from day to night above the mountain range as the two men make their way up and down some of the Alps' most testing terrain.
The seven peaks that the Hug and Sbalbi climbed were all in the south-western cantons of Bern and Valais, which is home to the Jungfrau-Aletsch the biggest glacier in western Eurasia.
The two mountaineers said that the route took months of planning and was organised so that the distance they had to ascend was minimised. One of the biggest risks was skiing at night, with the pair only guided by head-mounted torches. The duo finished ahead of schedule, taking just 20 hours to complete the epic journey.
Reuters