Drought- suffering California in Nestle protest
Comments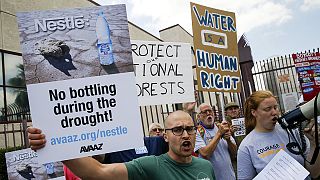 Protesters in Los Angeles have demanded the company Nestle stop its water bottling operations.
California is suffering its fourth year of a serious drought which has prompted the state's first ever mandatory cuts in water use.
Holding signs reading "Nestle: Leave California's precious water in the ground" and "Stop stealing our water!", protest organisers have accused the company of acting irresponsibly by exporting its bottled water out of state.
Nestle President Tim Brown has responded saying the company was working to improve its production efficiency to use less water and anticipated saving 144 million gallons of water per year as a result of new technology.