Thailand calls May 29 summit on Rohingya 'boat people' crisis
Comments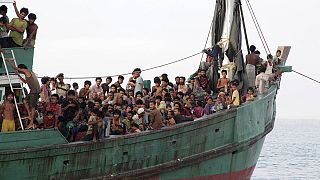 More than 400 migrants adrift at sea, mostly Rohingya Muslims from Myanmar and Bangladesh, have been brought ashore to safety by fisherman off the coast of Indonesia.
The majority are minority Rohingya Muslims, one of the most persecuted group on the planet. Some of the men, women and children had been abducted by people traffickers. Many were weak from sickness and starvation.
"We went on the boat to look for a Muslim country, either Malaysia or Indonesia," explained Asranal Ali from Myanmar. "But it doesn't matter what county as long as it's a Muslim country."
More than 3,000 migrants have landed so far this month in Malaysia and Indonesia.
The United Nations has appealed for countries to take the people in. Despite this, both countries have pushed back many boats approaching their shoes.
Myanmar's foreign ministry said in a statement that the government was making serious efforts to prevent people smuggling and illegal migration.
Thailand said it will let the sick come ashore for medical attention and has called for a regional conference on the issue in Bangkok for May 29.