South East Asia's Rohingya Muslim migrant crisis
Comments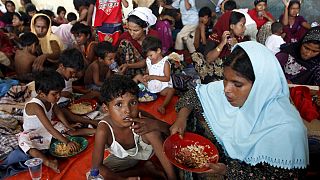 Nearly 1,000 migrants came ashore in different parts of Indonesia on Friday.
Weak, hungry and dehydrated, most had been crammed into boats towed ashore by Indonesian fisherman in Aceh province and North Sumatra.
The majority are minority Rohingya Muslims, one of the most persecuted group on the planet.
Muhammad, a refugee from Myanmar, said he had been adrift at sea for two months before he was rescued.
"My president is Buddhist, he does not like Muslims, he said he would put us in prison for 20, 30 or 40 years," said Muhammad.
Southeast Asia for years tried to quietly ignore the plight of Myanmar's 1.3 million Rohingya. Now it's being confronted with a dilemma that in many ways it helped create.
Thailand's prime minister General Prayuth Chan-ocha, said his country could give humanitarian assistance but has no suggestions where they should go next.
"Can we send them to a third country? Who will accept them these days? No one. If you look at the humanitarian principles, then yes (we should let them stay), but if you look at the burden Thailand is bearing, then it's another story," the prime minister said.
Thailand has dismantled an illegal refugee camp in the south of the country so that people traffickers could not hold any migrants there after 33 bodies, believed to be of migrants, were found last week in shallow graves near the Malaysian border.