UK: ginger man accused of plotting to kill Prince Charles "for the sake of the Aryan people"
Comments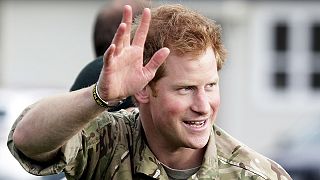 Prosecutors in London have accused a man of planning terrorist attacks against "dark haired" people, including Prince Charles, as part of an extremist fantasy.
Mark Colborne, 37, from Southampton is said to have been left feeling "marginalised and belittled by society because he is a white, ginger-haired male." The allegation comes from Alison Darlow QC, who also told the Old Bailey criminal court that Colborne had written about his "racial hatred for those who are non-Aryan" and his plot to kill Prince Charles with a sniper rifle.
The case goes back to June 2014, when Colborne's mother and half-brother alerted police after finding chemicals and notes detailing his hate for "blacks and Caucasian idiots" in his bedroom.
Police later uncovered that he had been searching the internet for ingredients for explosives and poison and books on how to make them.
In his notebook, Colborne compares himself to Norwegian right-wing terrorist Anders Behring Breivik and states "I'm looking for major retribution, a mass terrorist attack which will bring to the attention our pain – not just mine but my brothers around the world."
Colborne also details a plot to kill Prince Charles and is said to have written:
"Take down a silent rifle, take up a good stalker position and put a bullet in Prince Charles's head. He is protected but not too protected. I would sacrifice my life for that one-shot. Kill Charles and William and Harry become king. Kill the tyrants."
He adds: "I want them to see my transition from poor red-haired victimised minority that is constantly walked over to a fully transformed military terrorist."
Prosecutor Darlow told the Old Bailey Colborne is an agoraphobe who has suffered from depression. She said "He clearly had experienced a troubled childhood and perceived himself as marginalised and belittled by society because he was a white, ginger-haired male."
Colborne denies preparing terrorist acts. The trial continues.