Protesting healthcare workers in Budapest demand better conditions
Comments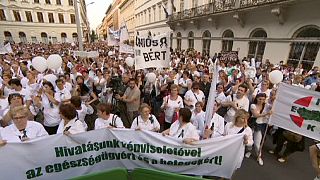 Thousands of healthcare workers, including doctors and nurses, have taken to the streets of Budapest.
The demonstrators are calling for better wages and conditions, saying many are being forced to seek jobs abroad.
Two simultaneous marches were held and a petition was presented to the health minister, who is promising to look into the demands.
The government of Prime Minister Viktor Orban has been facing growing street demonstrations.
Wednesday's protests by healthcare workers were the largest so far this year.
A recent survey shows that one in ten Hungarians plan to emigrate, the highest percentage in decades.